Looking for the best rainmeter skin that can entirely revamp your Windows desktop? Edunia has put together top 12 best rainmeter skins.
Most of the laptops and desktops across the globe still use the Windows operating system. Although you can customize the looks and feel of the Windows desktop with wallpapers and inbuilt widgets, the real magic begins when you third-party software like Rainmeter.
Rainmeter is arguably the most popular Windows customization software out there. Its popularity is because it is free desktop customization that comes with a lot of skins that you can use. You can display a ton load of information on your rainmeter customized desktops like system processes, RSS feeds, time/date/weather and network statistics. Now if you are looking for that perfect rainmeter skin to design the desktop of your dreams, Edunia has picked the topmost robust, versatile and customizable skins that you can use.
Top 12 Rainmeter Skins
1. IronMan-Jarvis
If you are looking for rainmeter skins then most probably you are a super nerd like most of us here, then you definitely need to get your hand on the Ironman J.A.R.V.I.S skin which is well the ultimate dream of most of Marvel fans.
No desktop is better looking than the Ironman's AI-powered Jarvis powered the computer. The Jarvis rainmeter skin is super customizable and has multiple modules that you can easily reposition as per your liking. You get all the modules like core CPU usage, RAM utilization, Clock/Date, RSS feeds, Temperature details and shortcuts.
Oh yea, did we tell you all these modules emerge from the reactor core!!
2. ALIENS
As the name implies this is a rainmeter skin that is dedicated to the lover of the extraterrestrial life form, the ALIENS. On the outset, this theme will not make much sense to you if you are not using it along with the alien wallpapers it comes with. We liked how easy it is to customize the modules and all the aspects of this rainmeter skin. From date/time to disk partition shortcuts to power status you can customize each and every aspect of this skin.
This is why we have included ALIENS at the second spot in our list of the best rainmeter skins.
3. Before Dawn
We have included the Before Dawn at the third spot in our list because it is one of the easiest rainmeter skins to set up. It is one of those ideal themes that require minimal or zero tweakings and can be used by even the novices. All you are required to do is to run the Before Dawn rainmeter skin and it will run as a full-fledged desktop skin with all the information laced.
What we loved about this rainmeter skin is that it present all the information is a highly legible way that included time and date, shorts to the system folder, subscribed RSS feeds, current location and temperature and shortcuts to frequently accessed websites and access programs.
4. Avengers SHIELD OS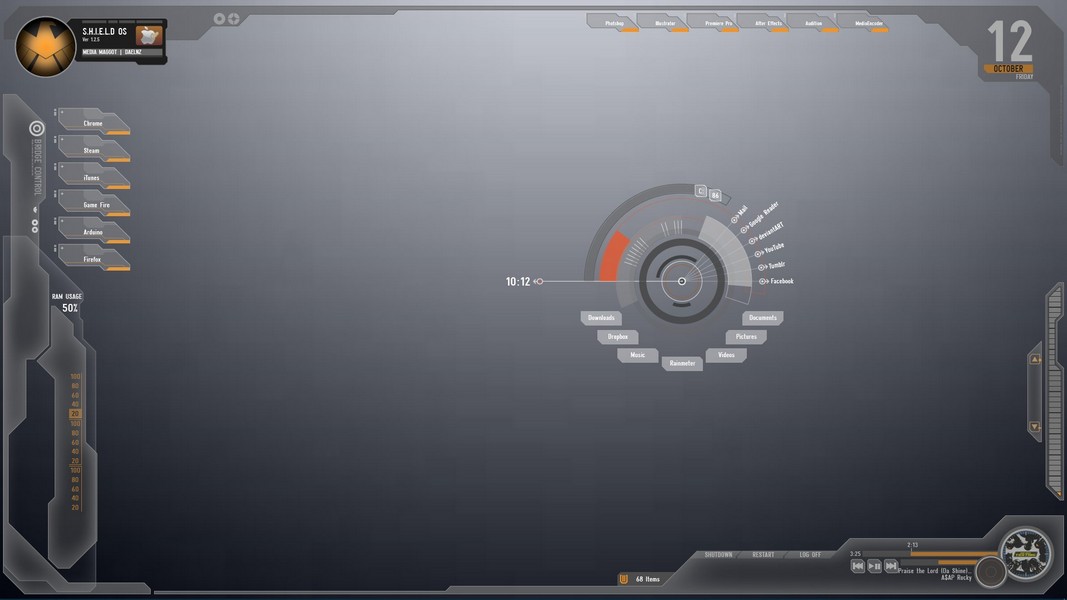 Wanna play Nick Fury when you sit in front of your desktop next time? Download the Avengers SHIELD OS rainmeter skin which will take you into the Marvel universe with its highly animated modules and appearance. This skin is available in multiple resolutions so you can pick on based on your laptop's resource availability. You can set your own shortcuts to frequently used applications like media player, browsers along with the usual display like the volume control, media playback, RAM and CPU usage and restart and shut down buttons.
But the feature you will love the most is the SHIELD eagle tag.
Download Avengers SHIELD OS Skin
5. TECH-A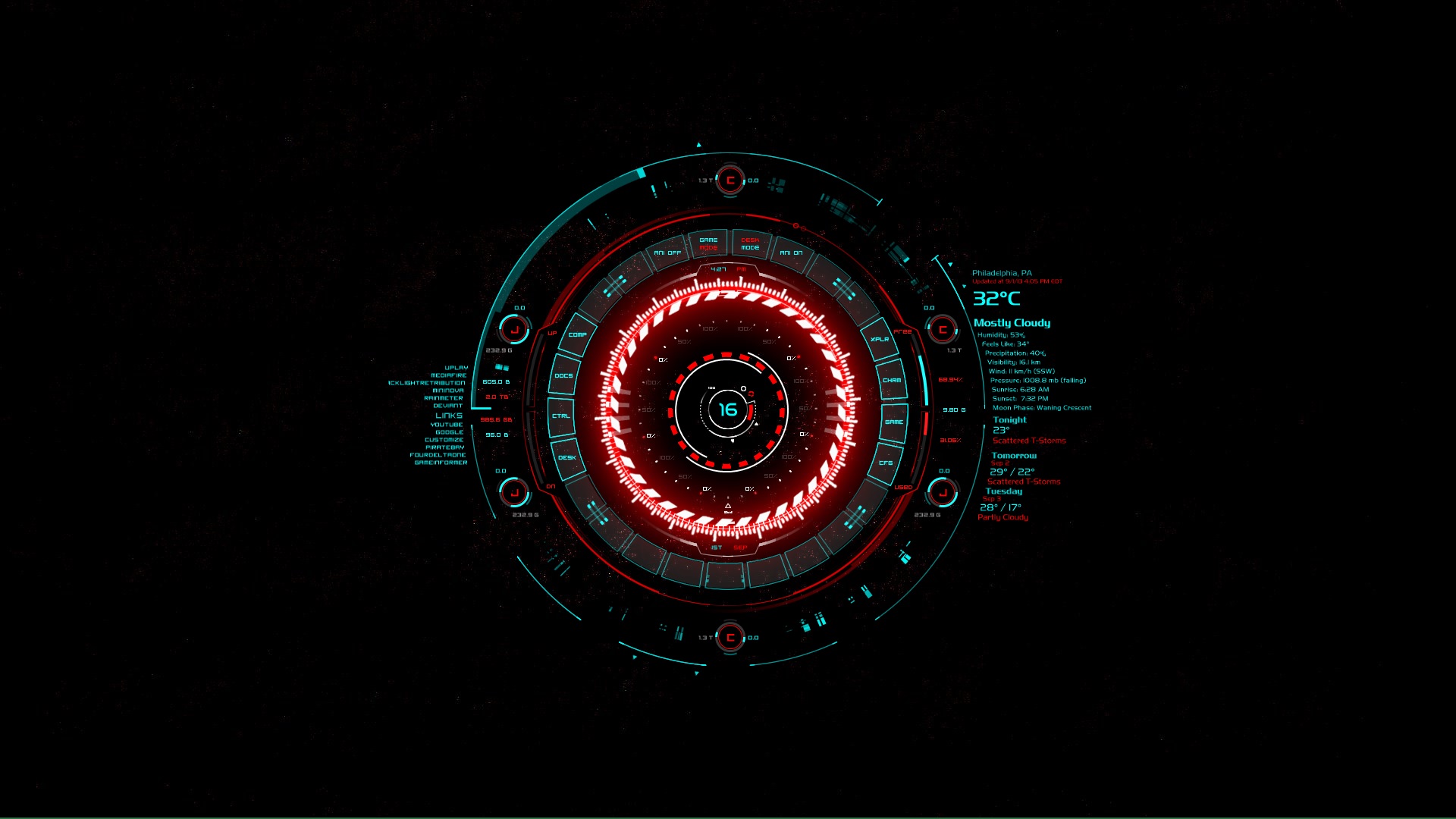 If you like to keep your desktop looking minimalistic yet want to add a futuristic look, then the TECH-A is the right rainmeter skin for you. This is not an ornamental theme but is loaded with all the features that make it a utility skin. For instance, it displays the RAM usage, CPU utilization and time and date on the desktop. I have always loved the substance of digital information being displayed on the screen. If you are looking for the best simple rainmeter skins, TECH-A is for you.
In addition, you get shortcuts to My Documents as well as disk partitions. Get ready to revamp your desktop with this animate rainmeter skin.
6. Senja Suite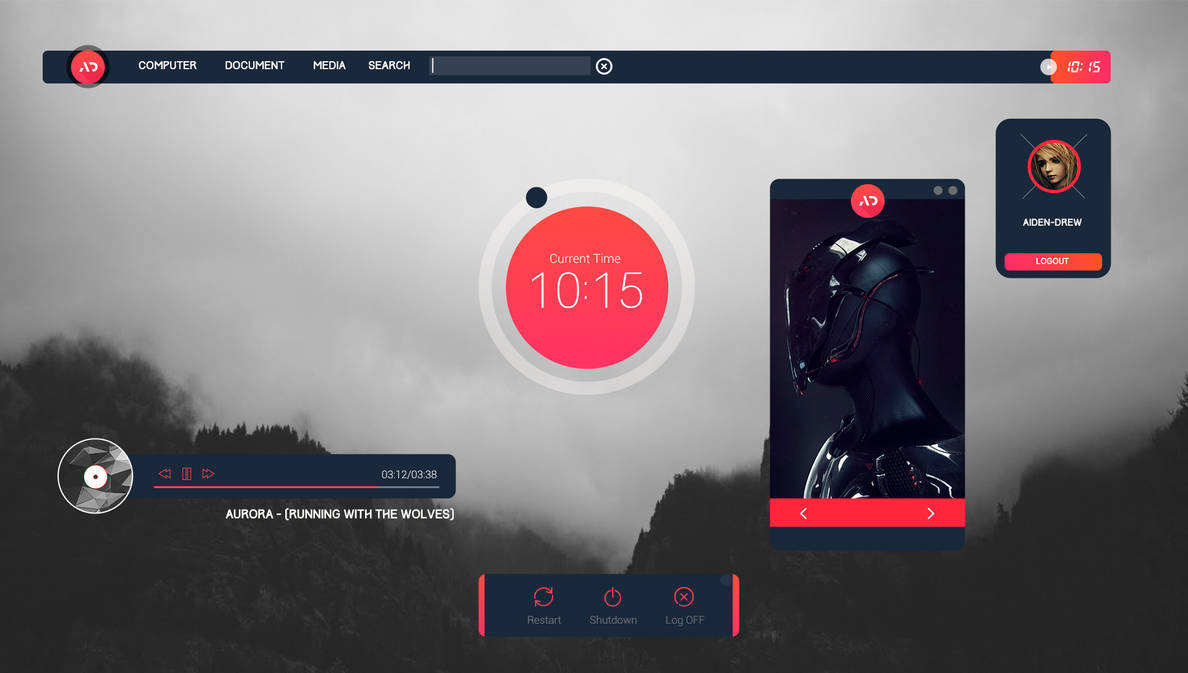 Lightweight, clean and minimal, the Senja Suite rainmeter theme is the one which is suitable for the lovers of intricacies and subtleness.  It is often that most rainmeter skins get lost in so much animation and showcase that they forget the utility part. But Senja Suite skin takes care only of the basics but does that extremely well. You can easily customize the most basic functions like the time, user profile button that has an expandable bar, media information, system folder shortcuts, restart/shutdown/logoff buttons and a slideshow of favorite pictures.
7. Enigma
This rainmeter skin is known for being the most downloaded skin of all time on the internet. One can spend hours customizing the Enigma rainmeter skin just to fit his or her taste. To tell you about the awesomeness of this skin, Rainmeter chose this skin as its default skin in the year 2009.
This rainmeter is capable of showing every piece of system information on your desktop that you can think of. All the submodules of this theme are highly configurable and you can rearrange them individually. World time, weather, media playback status, real-time active processes, picture slideshow and a lot more is possible with this skin.
8. LIM!T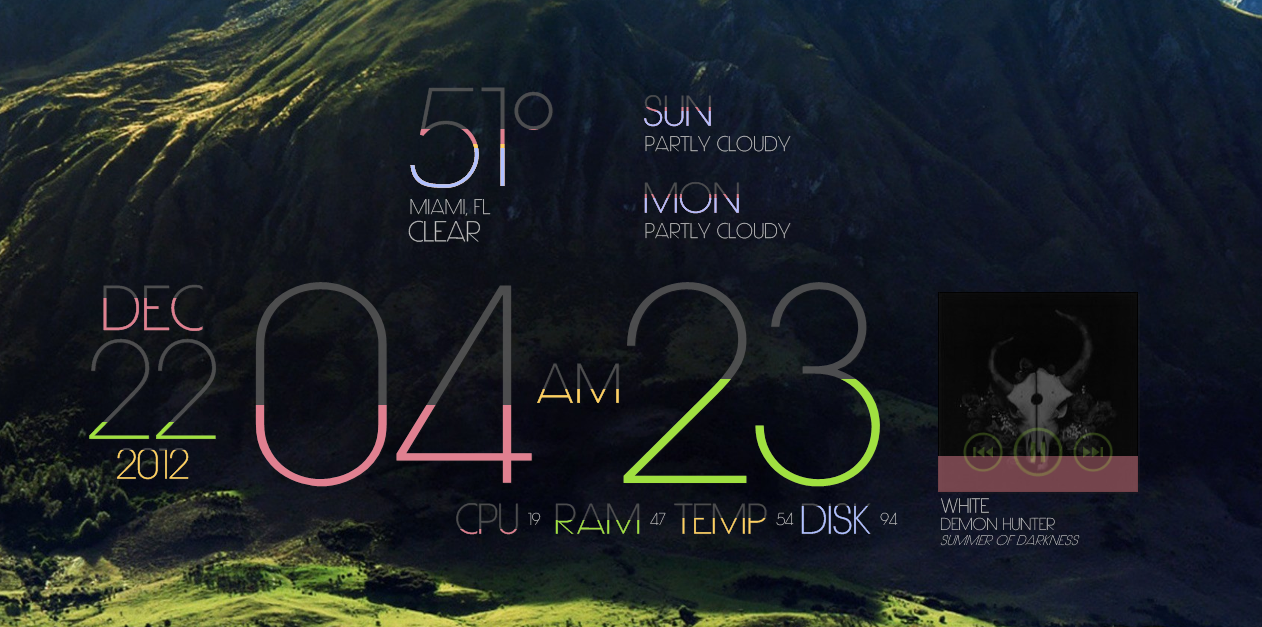 No, it is not a typo, this rainmeter skin is named LIM!T which is nothing too complicated or fancy. It is just another rainmeter skin that displays information mere as a text. You will find the LIM!T appearance entirely composed of big and clean fonts that convey a lot of information by the choice. You can choose what information you are willing to showcase on your desktop. All the system information can be displayed including CPU and RAM usage, time/date, current media playback status, and weather information.
This one of the most simple rainmeter skins on the internet.
9. Eker Lina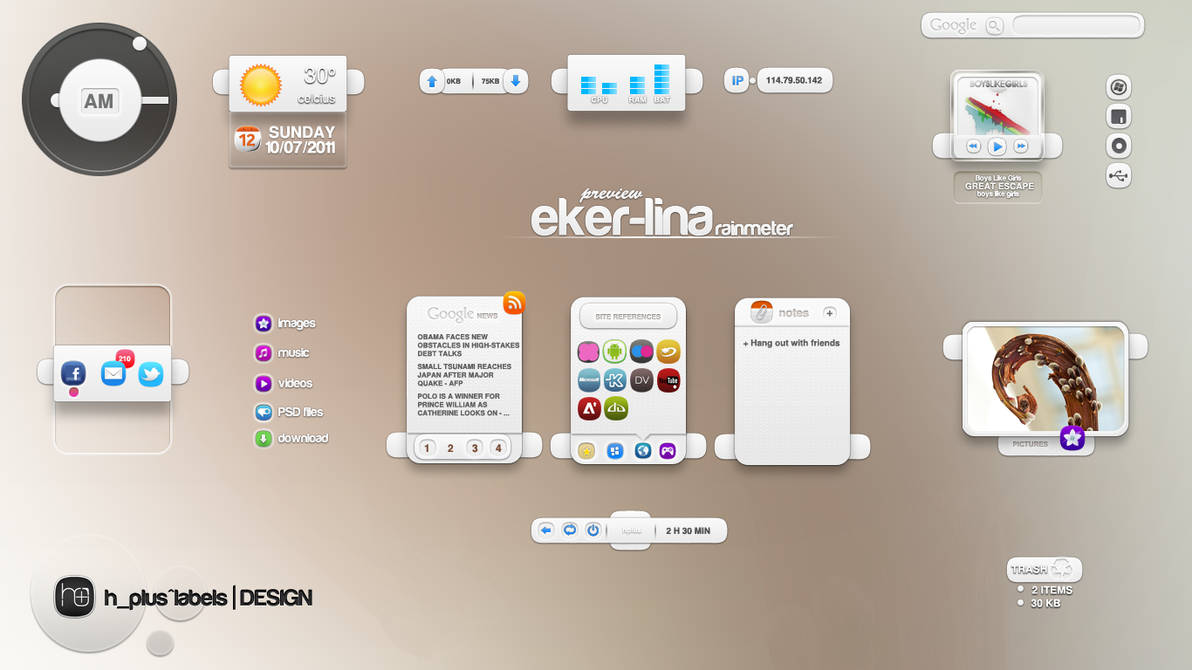 Rainmeter skins that we have covered so far are meant to be more utility skins but here's a theme that is entirely redefining how beautiful a rainmeter skin can look. We were impressed with how intricately all the aspects of this awesome skin are designed. There are numerous sub-modules that can be customized according to your liking.
With Eker Lina you can display a lot of information on the desktop such as media controls, RSS feeds, system folder shortcuts, time and date, and current weather.
10. Win10 Widgets
If you are a lover of flashy desktops that you want to put something amazing on your laptop, Win10 Widgets is a rainmeter skin that you will love. This skin further enhances the looks and feels of the inherent element designs of the Windows operating system. You get all the required widgets to display on the desktop including battery, date and time, CPU and RAM usage, Wi-Fi, Bluetooth and much more.
There is much more on the offer in the Win10 Widgets skin such as volume sliders, lock desktop button and media playback features. This rainmeter skin works pretty well on all screen sizes which is especially useful for Windows users.
11. T-R-A-N-S-F-O-R-M-E-X Mod
One of the most amazing rainmeter skins of the 2010s, the T-R-A-N-S-F-O-R-M-E-X Mod does not only have a cool name but all the competitive features. This rainmeter skin looks like the JetAudio that covers your entire desktop. Many users get nostalgic when this rainmeter runs on their desktop, the T-R-A-N-S-F-O-R-M-E-X Mod has everything that a user will want in a modern skin. There are all the elements including CPU and RAM usage, weather info, time and date, SWAP, location and lot more on the desktop.
Download T-R-A-N-S-F-O-R-M-E-X Mod skin
12. Wisp
Now here's a rainmeter skin that truly sets its modules boundary-free in every sense. The Wisp is a skin that makes the modules look as if they are directly drawn into the desktop background. You will definitely like how it frees the widgets from looking discrete. Some of the best desktops use the Wisp rainmeter skin for customization. Pair this wallpaper with the right wallpaper and you will have an amazing desktop that displays CPU and RAM usage, network bandwidth use, temperature, time and date, system folder shortcut and disk partition space usage.
Conclusion
If you consider your computer to be an extension of your personality then you definitely will want it to have a sense of individuality. The rainmeter skins offer you an opportunity to go beyond the basic customizations and truly jazz up your desktop with some of the most amazing features. Edunia has done its part in handpicking some of the best rainmeter skins on the internet, go ahead and make your choice.
Don't forget to let us know which skin you liked the most or if we missed on any.